2 cups powdered milk
1/4 cup cocoa
2 tablespoons cornstarch
optional: 1 teaspoon cinnamon
Mix together all ingredients and place in a glass jar or shaker jar.
Print the chocolate milk bath label shown below and glue it to the front of your container.
Decorate the top of the jar with ribbon, raffia, or a circle of fabric held on with an rubber band.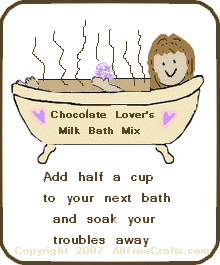 Tags: Chocolate Milk Bath